Amazon is set to surpass $258 billion in online sales for 2018, accounting for 49.1 percent of all online retail spend in the U.S. In addition, Amazon sales make up 5 percent of the country's total retail sales (online and offline) for 2018, according to research from eMarketer.
This is huge news for the company, which began as an online bookstore and expanded into a distribution giant, mostly by selling goods for third parties via its popular platform. Marketplace, which is Amazon's dedicated platform for third-party retailers to sell and deliver items to Amazon shoppers, accounts for 68 percent of all online retail sales (about $176 billion, according to website TechCrunch). By the end of the year, sales for goods sold in Marketplace will be more than double the sales for Amazon's own products.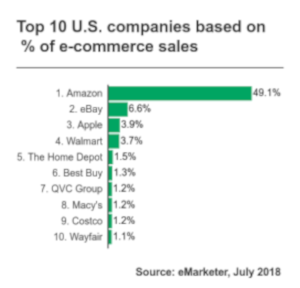 eBay was Amazon's next closest competitor in eMarketer's report, with only 6.6% of online retail sales in the U.S., and Apple came in third with 3.9 percent. Walmart, the leading retailer of physical stores, has made great strides with its Web presence, acquiring popular online clothing stores like ModCloth to increase its visibility. It came in behind Apple for fourth place with 3.7 percent of U.S. online sales. Macy's, which has also upped its online clothing game, came in 8th place, accounting for 1.2 percent of online sales.
Amazon isn't slowing down, either. Its sales are up over 29 percent from this time last year, according to website TechCrunch.
Categories for eMarketer's report included consumer electronics and tech, which totaled about a quarter of all online sales, apparel and accessories, and health, personal care and beauty - all top sellers in the online retail space.
Food and beverage sales accounted for $4.75 billion, a smaller portion of online sales overall, compared to other categories like tech and beauty. This hasn't deterred Amazon from moving into the industry with last year's purchase of Whole Foods. Amazon is also offering its own meal kits on the site, directly competing with popular services like Hello Fresh and Blue Apron.
Amazon is kicking off its annual "Prime Day" on Monday July 16 to draw in new customers to its premium service, further expanding its loyal customer base. The company will offer deals including $100 off the Echo Show, 25 percent off Amazon's in-house furniture brand called Rivet, and deals on items like produce and seafood at Whole Foods.
EMarketer based its findings on "an analysis of quantitative and qualitative data from research firms, government agencies, media firms and public companies, plus interviews with top executives at publishers, ad buyers and agencies."