Fitness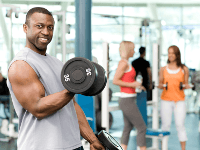 An online fitness service can provide the foundation and motivation you need to help you reach your health goals. In recent years these services have become more popular for a number of reasons:
Ease of access to the workouts and other related content
The tools they provide to reach your goals
How affordable they are compared to other options
Most important - How effective they are in helping you stay fit
Most of these services allow you to stream exercise videos to your TVs, computers, phones and tablets. This works just like Netflix and is easy to setup and use.
To find out if an online fitness program or a club/gym membership is ideal for you, and how to pick the best one, reading the articles listed below will help you figure out the positive and negative points of each approach:
Find Listings by Weight Loss Type