Eye Care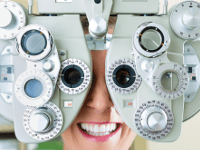 Purchasing your prescription eyeglasses, sunglasses, contact lenses, and eye care products at an online store is an easy way to save money. Online retailers don't have the costs associated with running a brick and mortar store or a Optometrist office. From their savings, you can expect to save up to 70% on eyeglasses and contact lenses. The only thing you need when purchasing eye wear online is your current prescription (should be less than a year old). For this, you will have to contact your Optometrist and they should be able to supply this information to you right away.
Online eyeglasses retailers have a number of tools to help you pick out your ideal frames. This includes search tools that allow you to specify what type of frames you are looking for, to virtual try-on tools which allow you to upload your own photo to see how you look in your favorite frames.
The following articles below contain information to help you decide on which online eye care retailer is the one for you. We also have included some information on the different type of eye wear you will find.
Find Listings by Eye Care Type