Review Detail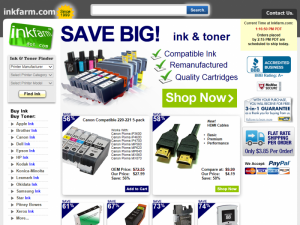 Printer Ink & Toner Cartridges

Editor
April 30, 2015
4070
InkFarm.com Review
(Updated: November 05, 2015)
InkFarm is a great company to deal with. We have had no problems with any of the toner cartridges we have purchased for our Brother MFC Laser Printer.

We purchased a genuine Brother toner cartridge for our first order a number of years ago. Since then we have ordered the remanufactured cartridges since they are a lot cheaper.

The only issue we had once was when we didn't receive one of our toner orders on time. I had stupidly waited till the last minute to order when my printer finally ran out of toner (it had been complaining of low toner for weeks) . I usually choose the standard flat fee shipping since it is super cheap and usually arrives within 3 days. I choose overnight delivery this time and after a day I still hadn't received my order. I called up InkFarm's customer service (there support is available 7 days a week) and they quickly found out for me that the shipping company had messed things up and that my shipment should be arriving the next morning.

While I didn't like waiting the extra 12 hours at that time (since I had something important to print) I was happy with their quick customer service response and their ability to find out right away what had happened.
Pros
Lots of products and flat rate shipping to US and Canada.
Comments