Review Detail
3.4
9
0.5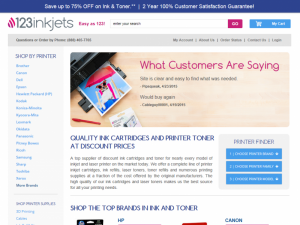 Printer Ink & Toner Cartridges

Editor
April 30, 2015
4554
I haven't had ink issues before when I bought ink for my hp printer from 123inkjet. I have probably bought ink for the same printer about 5 times before in about the same amount of years.

I usually always buy the re-manufactured/refurbished cartridges but this time I went with the no name brand as the others were out of stock. It worked fine for the first month but then I didn't use my printer for 2 months and the next time I tried printing something the page was blank because the black ink had gone dry.

Not terribly happy about this because at the time I needed the printer for important job. I recommend just buying the refurbished OEM cartridges and not the no name brand ones.
Pros
Ordering is easy enough
Cons
Ink dried up in no name brand cartridges
Number of Times Used
4 - 6
Comments
1 results - showing 1 - 1
Did you try calling 123inkjets customer service?I had a cartridge that didn't work and they sent me a new one right away. They have a 2 year guarantee on all of their products.
1 results - showing 1 - 1