Review Detail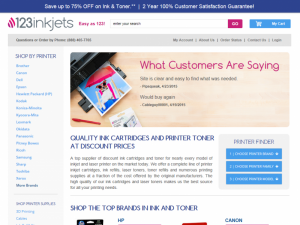 Printer Ink & Toner Cartridges

Editor
April 30, 2015
2927
Replaced Ink Cartridge at no cost!
I have ordered from 123Inkjets many times over the last 5 years or so and have always received the cartridges I ordered and everything worked fine. My last order was a little different as one of the cartridges didn't work. I originally had picked 123Inkjets as they had a good return guarantee and BBB rating was an A so it looks like I will be testing the return policy.

I called customer service and told them that I had tried using one of the cartridges and it did not work while the other ones did. The lady on the phone was really friendly and told me she would send a replacement out right away at not cost to me.

That was great news and I received it under a week. I am glad I picked 123InkJet as my ink supplier as with the guarantee along with their low prices makes it well worth it.


Pros
Customer service is very helpful and understanding
Cons
One of my ink cartridges did not work on my last order
Bottom Line
Yes, I would recommend this to a friend.
Number of Times Used
4 - 6
Comments