Review Detail
3.8
29
0.5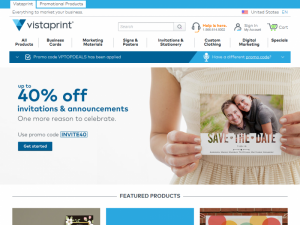 Printing

Editor
April 15, 2015
3603
Vistaprint Review
(Updated: November 05, 2015)
Vistaprint offers reasonable prices that are either better or comparable to other online printing sites. The vast selection of custom-printed products can't be beat. The company is reliable, shipping is fast, and it's easy to track orders.
Pros
Low Prices, Free 3 day shipping, Price-match and Satisfaction Guarantees
Cons
Custom graphic design services are not offered
Comments
2 results - showing 1 - 2
(Updated: February 26, 2016)
February 26, 2016
Have you guys had any order problems with Vista print? I just placed my first order with them for some business cards and they came within the week with out any problems.

It is the first time for me to order my printed materials online so I started out small. While it is cheaper I worry if there are any problems I will be stuck with a useless shipment.
In reply to an earlier comment
Hi Star Writer,

We haven't ordered a whole lot from VistaPrint since we haven't had the need being an online business but I did check with a few local companies to us we know who have.

One company who has used them for close to 4 years as had the odd printing issue with VistaPrint. They tell me that it is less issues than with the printer they have used before and VistaPrint has always fixed the problem as quickly as possible without any extra cost.

VistaPrint does have their Guarantee which means if you are not 100% satisfied you can get a reprint or a refund.
2 results - showing 1 - 2