Review Detail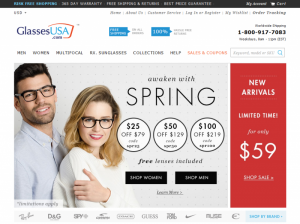 Eye Care

Editor
April 14, 2015
7479
I am 33 now but I have had glasses since I was 5 years old and have always hated how they looked on my face. I am pretty blind and have a strong prescription and as soon as I could I switched to wearing contacts in my teens.

I got my new pair of glasses from GlassesUSA last week and have been wearing them ever since. They are my first pair of new glasses in about 4 years and I love them. The frames I picked out are super light and not heavy like the old pair I have which use to hurt behind my ears after a while. The selection they have is huge but it is so easy to find the types you like by being able to select certain frame shape, types and colors. Once I had narrowed down my selection I went by the measurements and reviews other customers had written about the frames I was looking at.
Pros
Awesome selection, my glasses fit perfectly
Bottom Line
Yes, I would recommend this to a friend.
Comments