Review Detail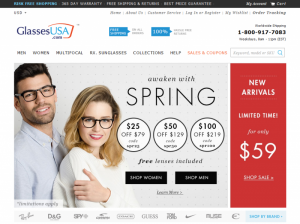 Eye Care

Editor
April 14, 2015
7479
Sent wrong glassess. Would not use!
We ordered glasses at Glassesusa.com for my son. We uploaded his prescription but they decided to call the doctor and some how got my prescription instead. It took almost 3 times as long to get the glasses instead of the 10 days they advertise. Once we received them my son instantly realized they where the wrong RX.

We emailed them right away but it took several days before we got a response from customer service. They told us to complete a return request. They told us not to bother to return the glasses as they would not use them. We waited another couple of weeks and no glasses. So we called again and the customer service could not find any record of our previous issue. They also said they could not process the new order without the old set of glasses returned (which is NOT what they said the first time).

I had enough and said I wanted a refund but they then told me it was over 30 days so no refund which is silly. I ended up cutting ties with them and ordering my sons glasses from Frames Direct which we did not have ANY issues with.

Also it would have helped if when you log into your account on Glassesusa.com they would display your order information and tracking info. You need the extra step of needing to know your order number to access it which is just another step. Frames Direct lists your orders on your account without this problem.
Cons
Recieved wrong glasses. Shipping really slow
Bottom Line
No, I would not recommend this to a friend.
Comments