Review Detail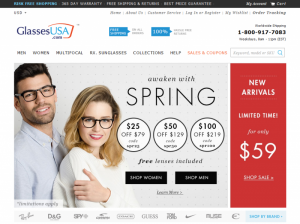 Eye Care

Editor
April 14, 2015
7479
I have a very strong prescription and my Ophthalmologist warned me about using an online glasses store. I went on to Glasses USA and was completely surprised at the price difference. My last pair cost me over $450 and the pair I ordered from Glasses USA was under $150. I have been wearing my new glasses for the last 2 weeks without any discomfort, the lenses are perfectly fine. The frame lacks a separate nose piece but that was a decision I made when I bought the frames as I had notice this at the time of purchase. It took a few days to get use too but the frames fit well and do not move on my face.

For those who were recommended against using an online store for their glasses, trust me if they can get my prescription right you will not have any problems. This is an excellent value.


Pros
Good lenses - Great value
Bottom Line
Yes, I would recommend this to a friend.
Comments