Review Detail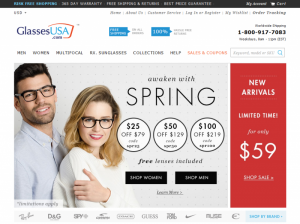 Eye Care

Editor
April 14, 2015
9724
I read a whole bunch of reviews on a number of different online eyeglass stores. They all had good and bad reviews so that wasn't much help (and here I am adding another one :-)

In the end I picked glassesusa.com and I am glad I did. I originally picked them as they had the cheapest glasses I liked and also fit my face. That was another worry making sure I had the correct measurements so they would fit snug enough but not be uncomfortable. Anyways, the glasses arrived last week and they fit perfectly fine and I love them.

I don't have insurance so I wanted a quality pair of glasses for a good price. I ended up buying them for $89 plus $12 for an extended warranty which covers damage that is caused by me (as I have a bad habit of breaking them). I also choose the cheapest shipping which means I had to wait a bit wearing my old glasses with tape on the frame where I broke them.

My experience has been a good one with glassesusa.com and I will use them again.
Bottom Line
Yes, I would recommend this to a friend.
Comments