Review Detail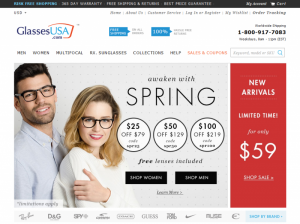 Eye Care

Editor
April 14, 2015
7479
Company Does Not Deserve To Exist!
Thank goodness it doesn't happen very often in life, but you occasionally run across one of those companies that should not exist because they have a horrible company culture and do not get anything right! Glasses USA is one of those companies. They seem to endeavor to find a problem with your order so that they can stop it from going to production. There is a very noticeable amount of infighting between the internal departments, calling each other incompetent idiots in front of customers. In my two experiences with the company (each with an order for two pairs of glasses); they charge your credit card immediately, but lose the order and took nine weeks to fulfill one order and eight weeks to fill the other. The final order, they sent two pairs of sunglasses when one was supposed to be normal glasses with transition lenses; and it was silver instead of gold. (I have never owned a pair of silver glasses in my life.) And if you need warranty service, it took over five phone calls and eleven emails over eight weeks to get their attention! So am I supposed to send the glasses that need replacing and let them lose them and forget all about it? That would be foolish, wouldn't it? My advice, run, don't walk, away from Glasses USA! And they have existed for ten years now? Horrible company that does not deserve to exist because they do not care whatsoever about their customers!
Cons
Customer Service, Delivery Time, Order Accuracy
Bottom Line
No, I would not recommend this to a friend.
Comments