Review Detail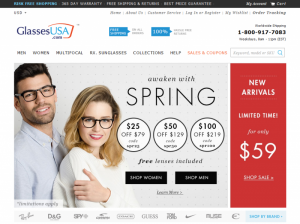 Eye Care

Editor
April 14, 2015
8684
THEY DELETED MY PEUCHASE AND SHIPPING CONFIRMS FROM MY INBOX AFTER I COMPLAINED!!!
I ordered a pair of RayBan New Wayfarer prescription sunglasses. When they arrived they appeared to be knockoff frames- brittle, flimsy plastic frames that were so large they fit outside of my ears. (I tried the same glasses on in a department store- different material (nylon), and a proper fit). I notified the company that I was returning them and printed out a label, then shipped them back to Glassesusa. The next day, ALL OF THE EMAILS CONNECTED TO THE TRANSACTION DISAPPEARED FROM MY EMAIL INBOX!!! No purchase confirmation, no shipping notice, nothing- all gone from my inbox. I searched and came up with 20+ promotional emails from them, but all records of my purchase were set to auto delete (or manually deleted with the gmail unsend feature?). I've never seen a company so sketchy. I have a complaint in to PayPal, and I'm waiting for a resolution, but I'll say this- Don't do business with this company!!!
Cons
They sent me knockoff RayBan Frames!!!
Bottom Line
No, I would not recommend this to a friend.
Comments