Review Detail
2.2
31
0.5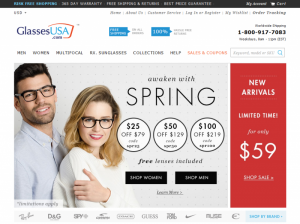 Eye Care

Editor
April 14, 2015
12163
I've had an overall poor experience with GlassesUSA. Beginning with trying to jump through hoops to obtain my glasses after calling customer service to have my shipping address changed due to a sudden move, being told that the changes would be forwarded to the shipping department, then watching my tracking info several days later show that my glasses were being shipped to my Ex's home. I contacted customer service again several times to explain that I had changed my shipping address (and also billing address which they sure got that one right) and that my glasses were shipped to a home in a different state than myself to no result. I stopped receiving updates on the progress of my service ticket. I turned to my last resort of contacting my Ex's family to have them ship the glasses to me. Arriving extra bubble-wrapped and safe (The original packaging still sealed), I began wearing one pair, storing the other away for when I'd want to change pairs. Today I just pulled the stored pare out of their case to find that the frames had broken in two different places and are entirely unusable. I will not be purchasing anything from GlassesUSA in the future.
Pros
Large online selection, try on tool
Cons
Poor quality frames, poor construcion, poor customer service, no service ticket resolution
Bottom Line
No, I would not recommend this to a friend.
Comments