Review Detail
2.2
31
0.5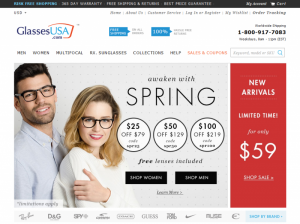 Eye Care

Editor
April 14, 2015
12839
Glasses USA has a really good return policy. The first glasses I bought wasn't quit what I thought they where going to be after I tried them on when I received my glasses delivery. I had used their virtual-try-on thing on the Glasses USA website and I had thought they were going to be okay, but they ended up not being so.

I called customer service and they were really good. I was able to use 100% of the money I spend on my second choice which ended up being perfect and should have been my first choice. You have up to 30 days to exchange your glasses.

I plan on using Glasses USA again!
Pros
Good return policy when I didn't like my frames
Bottom Line
Yes, I would recommend this to a friend.
Comments
1 results - showing 1 - 1
I thought the virtual try on was okay. Nothing beats seeing the real pair of glasses on your face though. At least Glasses USA has a decent return policy if you don't like what you ordered.
1 results - showing 1 - 1