Review Detail
2.2
31
0.5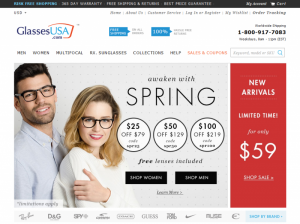 Eye Care

Editor
April 14, 2015
12998
No adjustments & hellish returns
I gave this company a chance, and the lack of being able to adjust the frames makes mail order glasses useless. They offer no adjustment services for bow fitment or anything else. So, returned the items and expected a refund within a few days. Just contacted their live chat, and was told a number of times to be patient, the 30 days wait for refund is something I "agreed" to as it is their policy ... so, they want to hold on to your funds for weeks, up to a month!!! CROOKED. Returns are simple, you get the product back, and you execute the return of funds ... they do not do this. Glasses came out of Cali, returns went to Illinois, and they say they're located in NY. What that equates to is; they are middle men, and you can find better prices and services with another company, or even locally. This company is irrelevant and crooked.
Pros
Didn't have to leave the house
Cons
No adjustment services, keeps refund 30 days after return received
Bottom Line
No, I would not recommend this to a friend.
Comments