Review Detail
4.3
6
0.5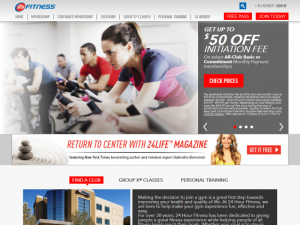 Fitness

Editor
November 15, 2015
6218
24 Hour Fitness Gym Review
I like 24 Hour Fitness compared to other gyms near by because they have everything under one roof. I can swim, weight train and take fitness classes. The change rooms and showers are clean and there is lots of room to get dress. They have plenty of cardio machines so I have never had to wait. There is also lots of parking.

I had a trainer as well for a month. I had initially worked out by myself for 6 months and was not seeing the results. My trainer Dave was very knowledgeable and was able to develop a workout routine that fit me. He showed me how to do the exercises properly so I would maximize the workout. It definitely changed things and now I am loosing weight and looking much more fit.


Pros
Trainers are great, Lots of things to do.
Bottom Line
Yes, I would recommend this to a friend.
Length of Time Used
1 - 2 Years
Comments