Review Detail
4.3
6
0.5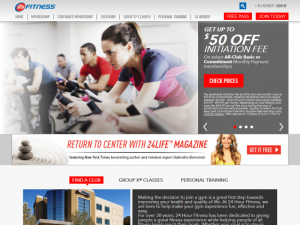 Fitness

Editor
November 15, 2015
6217
24 Hour Fitness Review
(Updated: November 30, 2015)
24 Hour Fitness seems to know what everyone wants in a gym. A new club just opened last year in our neighborhood and not only is it well laid out, it has everything you could ever need for exercise and weight loss. It doesn't matter if you want to do some laps in the pool and cycle classes to stay fit, or tone your muscles by using using dumbbells and kettlebells weights (like me) they have more than enough equipment (even during busy times of the day) to keep you on track.

I also like the 24 Hour Fitness app. It is a great companion to working out as you can track your progress and use many of the digital tools like the calculators to figure out where you need to improve.
Pros
Great amenities. Clean clubs and change rooms. Well maintained.
Cons
Membership options can be confusing.
Comments