Review Detail
4.3
6
0.5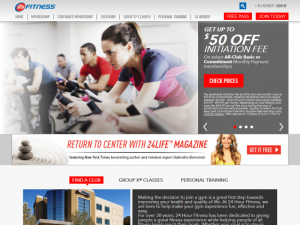 Fitness

Editor
November 15, 2015
6218
The club I use is clean and has fairly new and well maintained exercise machines. I ended up purchasing a 2 year 24 Hour Fitness membership from Costco. It saved me a fair bit of money at the super sport gym and works out to cost me only just over $27 a month. Those of you interested in joining the gym this is the cheapest way to go if you actually plan on using your membership.

My introductory free hour with the trainer was informative and is worth it for newbies to fitness. I ended up paying for 10 sessions when I first joined on at 24 Hour Fitness. It is well worth the investment as it gets you started on the right track and helps you to use the equipment correctly so you get the most out of your workouts.

Overall I have been impressed with 24 Hour Fitness. If you are into classes like Yoga and cycling them seem to have a lot of those as well. I haven't used them but the coaches look very energetic in the classes I have seen.
Pros
Clean and lots of equipment
Bottom Line
Yes, I would recommend this to a friend.
Length of Time Used
6 - 12 Months
Comments