Review Detail
4.4
182
0.5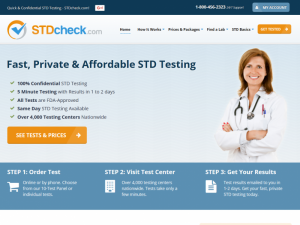 STD / STI Testing

Editor
February 17, 2016
24458
I am 43 and I have never been checked for an STD before. I didn't really want to go through my doctor so I decided to give STD Check a try. I did the 10 panel test and skipped the early HIV option since I wasn't concerned about it.

The whole process is very easy and I had been to the lab before for other blood test over the years so I knew where it was and that it was close by. I was in and out in about 10 minutes. It was a little nerve racking waiting the few days for the results but they were emailed and everything was negative.

There is not much that I see they could improve on the whole process. It would be nice if it was a bit cheaper but over all if you are worried about having an STD, $200 is well worth the piece of mind.
Bottom Line
Yes, I would recommend this to a friend.
Comments
1 results - showing 1 - 1
Yeah I used STD Check as well. I thought it was a little expensive but from ordering to getting your results is quick and easy to do. If you are worried about having an STD like I was the 200 bucks was the last thing on my mind.
1 results - showing 1 - 1