Review Detail
4.1
8
0.5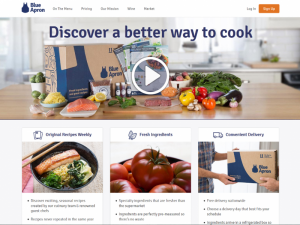 Meal Kits

Editor
June 08, 2016
4506
I really like what Blue Apron has to offer. Fresh ingredients and easy to follow and understand recipes with photos on nice cards that can be reused. We have a full binder of them now.

It's fun to review and select from the 6 options every week for delivery. Our delivery has never been late or damage and the ingredients have always been cold and fresh. My husband and I are in our late 60's and retired so are always home for the delivery. I have seen some complaints online on delivery for other meal kit services but we have not had any issues with Blue Apron, but us being always home might be part of the reason for this.

I have always enjoyed cooking from scratch and my husband of almost 50 years look forward to these meals as a treat as they are recipes and food combinations we would not normally try. We have been using it for over 9 months now and plan to continue.
Pros
Different meals every week. Makes cooking fun.
Bottom Line
Yes, I would recommend this to a friend.
Length of Time Used
6 - 12 Months
Comments