Review Detail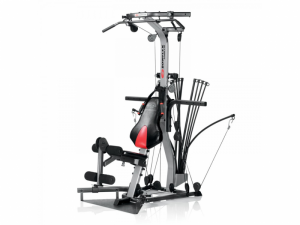 Exercise Equipment

Editor
March 22, 2016
2737
The great thing about this home gym when compared to others (and older Bowflex's I believe) is that it uses pulleys instead of multiple cables. This makes things a lot easier and usually means you just have to clip whatever tension rod you want on and you can start your workout. In some cases you may also want to change the location of the pulley if you are doing chest presses. You can clip the pulleys on different bars (or different locations of bars) to change the location of where you are pulling from.

I was a little hesitant about getting a Bowflex gym at first. I thought free weights would be better but I didn't want all that weight sitting on the second floor. A Bowflex is much lighter obviously since you don't have a 300 LBS weight stack. I am glad I did. I use the Bowflex about 4 or 5 times a week and I have gained about 9 pounds of muscle which has me at 195 LBS. It's a great workout. For men I would recommend getting 410 LBS of resistance. You may not need it right away but if you plan on using the machine a lot you will eventually. Women and seniors probably can stick with the regular 210 LBS that the Xtreme gym comes with.

I can cover my entire workout with the Bowflex and I am glad I went ahead and got it.
Pros
Tension rods work better than I thought they would.
Bottom Line
Yes, I would recommend this to a friend.
Length of Time Used
3 - 6 Months
Comments