Review Detail
2.9
36
0.5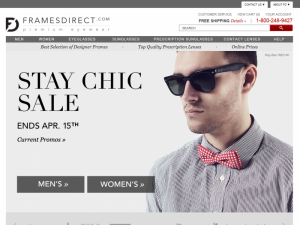 Eye Care

Editor
April 15, 2015
10744
So Disappointed.


I was very impressed with selection. However, when I got my glasses I couldn't see clearly. I called FD and they encouraged me to 'give them a while' to adjust to progressive lens. I called at the 1-month mark and said I still can't see correctly and can't wear them. In full disclosure they offered that I could send them back and they would look at them. I said I can tell the lenses have the pupils placed in the wrong location, and looking at them wont help. So they said I could take them to an eye doctor and get my PH/PD measurements taken. So I scheduled another eye doctor appointment. Doctor confirmed the Pupil Height and Distance was placed incorrectly by Frames Direct for both eyes. I contacted Frames Direct and informed them that a doctor confirmed they were made incorrectly. They requested I go back to the doctor again and have the doctor put dots on the lenses where the pupils should have been and then send them back. I scheduled with doctor again. I sent them back with dots on the lenses. FD could see glasses and lenses were in brand new perfect condition and still are. They informed me that now too much time has passed and I will have to pay again to have my lenses made correctly. (but they would offer a 50% discount).


They made them wrong, encouraged me to 'give them time' then instructed me to go back to doctor twice, then told me too much time had passed. It just feels like I was played. The Frames Direct measurement system using a CD is highly inaccurate. (confirmed by a doctor)
Fine Print at Frames Direct states if you contact them within 30 days and notify them of difficulty they guarantee replacement. I did contact them within 30 days, and followed their instructions and they still refused to replace the lenses. Again, in full disclosure, it did take me a couple months to schedule the 2 doctor appointments required due to business travel. I clearly communicated this with them and they encouraged me to still schedule the 2nd appointment and have the dots marked on the lens in the correct spots. When I sent them back as we had discussed, they refused to correct the lenses and sent them back in unwearable condition with the brand new premium all options package including dark transitions lens that is useless. 100% confirmed a MFG error based on their proprietary CD selfie system and would have been So easy to resolve now with accurate measurements provided at their request.
Bottom Line
No, I would not recommend this to a friend.
Comments