Review Detail
4.3
6
0.5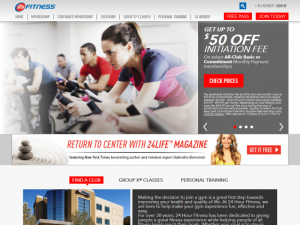 Fitness

Editor
November 15, 2015
6216
24 Hour Fitness review for Austin, Texas
The equipment at this gym is modern like at any other 24 hour fitness. It is very clean and well lit. I find at most big box fitness gyms that after a year or so after opening the place starts to have a bit of wear and tear and the janitorial staff starts to slack. I haven't found this to be the case at my home gym in Austin. I also travel a lot for business and have used a number of 24 hour fitness gyms across the United States. Most are very good, well organized and clean.

I haven't done any fitness classes except for a couple of spin classes so I can't really comment on the trainers and the classes themselves but the ones I have seen while I work out always look busy and the instructors seem to know what they are doing.

I mainly use the weights and the treadmills. I never had to wait for a treadmill, even during peak hours. If you do go during a busy period just keep an eye out for the machine you want and when it is available grab it during your workout and then continue your weights after.

The weight gym has lots of equipment and my fellow members have always been nice and willing to spot if need be.

I haven't used the pool yet as swimming isn't my thing. I actually may join their basketball league at my home gym though. It's free and the guys in it look to be my skill level. You can really work up a sweet when playing and I find playing sports much more enjoyable than getting my exercise by running on a treadmill.


Pros
Super clean and recently renovated. Newer machines.
Bottom Line
Yes, I would recommend this to a friend.
Length of Time Used
6 - 12 Months
Comments