Review Detail
3.5
32
0.5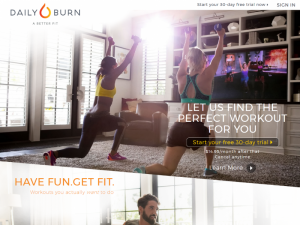 Fitness

Editor
November 15, 2015
9011
DailyBurn Review
(Updated: November 20, 2015)
With the amount of programs that cover a range of fitness and strengthening workouts , and the high quality video library you can access, DailyBurn is one of the best fitness services online. They have programs designed for the beginner (or returning person), intermediate, and advanced fitness athlete. It doesn't matter if you are looking at loosing weight or just want to tone your core there are 18 programs to choose from that will fit your needs.

With DailyBurn's 30 day risk free trial, it allows you to see if the service is the right fit for you. Only the instructors can keep the workouts fun and motivating so it is nice that you get over 4 weeks to try out the service for free, to see if you will see results. Also the price is less than 50 cents a day which is much cheaper than a gym membership.

DailyBurn does contain a lot of recipes and nutrition guides but it is primarily an exercise solution.


Pros
One of the best fitness video streaming services. Great Price.
Cons
We miss the community forums.
Comments