Review Detail
4.3
6
0.5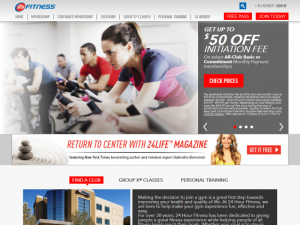 Fitness

Editor
November 15, 2015
6218
24 Hour Fitness Gym Rating
When I lived in the city my condo had a small gym which I used contently. Not the best but it had what I needed for the most part. Well I got married about a year ago and we moved out to the suburbs into a nice house. While I have room in the basement to add a workout room I didn't want to spend the money on the room and buying the weights etc. I looked into bowflex briefly as well but decided against it. I also miss working out with other people as for me it provides motivation.

After gaining a few pounds I figured enough was enough and I joined 24 hour fitness that was somewhat close to my work. It would be better closer to my house but it was the best option in terms of cost, location, equipment, and pool (in order of importance to me). I am glad I did. I usually work out after work and while the gym is busy it is not overly so. I always get the equipment I need during my workout. I have made a number of friends that I exchange tips with and help spot. The free personal trainer session was also nice and I was able to modify my current workout and exercise routine for the better. I am targeting my legs more now which I hadn't before.

While no one really wants to spend money on a gym membership I can't complain about mine. It is not too expensive and it was cheaper than the bowflex financing program I had checked out. I forgot to mention that the fitness classes seem good as well. I haven't done one yet as I rather use a tread mill but I think my wife wants to join and I know she will be interested in the variety of programs that 24 hour fitness offers.
Pros
Excellent free weights area. Lots of tread mills.
Cons
A little far from my house
Bottom Line
Yes, I would recommend this to a friend.
Length of Time Used
6 - 12 Months
Comments