Review Detail
4.2
4
0.5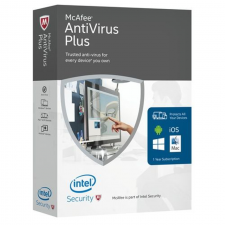 AntiVirus

Editor
December 23, 2015
2564
McAfee AntiVirus Plus Review
(Updated: December 29, 2015)
McAfee AntiVirus Plus offers all around good protection of your files and needs very little in computer resources when protecting your device. Once you purchase a subscription you can also protect an unlimited number of devices with one subscription which is excellent. Files downloaded from the internet are automatically scanned and anyone attempting to look for open ports on your computer will be stopped by the included McAfee firewall service. While the firewall may be called "Simple" by McAfee it does the job well as most people do not need a firewall with many configurable options since the default settings suits 95% of users fine. For Microsoft users though Windows has been including a firewall service for a while now which is perfectly suited at protecting most PCs so I am not sure if the one provided by McAfee is really needed.

The one thing that McAfee surprising lacks is email protection. McAfee AntiVirus Plus does not scan incoming emails which a lot of other competing AntiVirus programs do. Other McAfee products like their Internet Security suite does along with McAfee Total Protection. This is a big mistake by McAfee and is the reason for our low Protection rating since emails is a large part of how viruses are spread. McAfee AntiVirus is excellent at finding infected files by malware and viruses but with their decision for not including email protection is a BIG mistake in our opinion.

McAfee AntiVirus is also not cheap when compared to other competing products. Even comparing with their own products like McAfee Total Protection which includes all of McAfee's AntiVirus Plus features and Internet Security features it is almost 50% more expensive. For this reason, along with the lack of email protection we cannot recommend this product.
Pros
Includes a firewall and excellent file protection for an unlimited number of devices..
Cons
Does not include email protection. Cost is high. Firewall is a stripped down version.
Comments