Online Fitness has become popular in recent years, thanks to celebrity teachers and the convenience of working out from the comfort of home. More and more people are dumping their gym memberships in favor of using an online platform, which not only allows access to specific classes at any time, but is often much cheaper than paying that monthly membership fee.
The problem? Many people using online fitness programs lose motivation after a few months. After all, there's no accountability – who is going to pay attention if you cut your routine short by ten minutes, or skip those crunches?
BurnAlong aims to change that. Its founders saw the lack of motivation in the online fitness world (which leads to less-than-satisfying results), and decided to change the game by allowing users to invite friends to work out with them.
Users of BurnAlong can invite up to three people to join them in a workout, and they can monitor each other as they also watch the workout video. Thumbnails of all invitees will be visible on the screen during the workout, so they can see what each other is doing and encourage one another to keep going.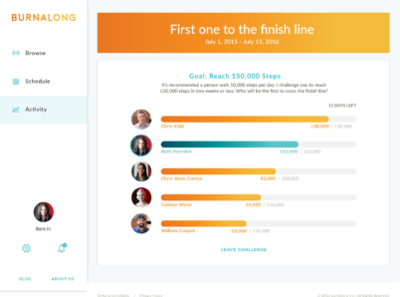 BurnAlong is also looking at live streaming classes featuring some of the more popular instructors, so people are more motivated to show up regularly for an online class with their friends that operates at a specific time, much like a gym class (but more convenient and a fraction of the cost).
Other online fitness programs like Daily Burn have been doing livestreaming classes for years, but BurnAlong is the first service to offer the ability to workout with friends online.
Fitness apps have also capitalized on the value of social accountability when it comes to working out regularly. Many like MyFitnessPal and Strava allow you to share your workout or announce how many miles you ran over social media. It helps to check in with friends who are also working out, increasing your motivation to reach long-term health and fitness goals.
Online Fitness programs are especially valuable to busy working parents, who often don't have time to workout until the kids have gone to bed, or before they get up in the morning. Being able to exercise at odd times has a real benefit.
"Life just kind of gets in the way of working out as regularly as you would like to in person, and so naturally, with technology advancing the way it is, people look for opportunities to still work out from home," CEO Michael Kott told The Baltimore Sun. "But people don't have a way of maintaining that connection with that instructor who they're motivated by and who they trust when they go home. ... We bridge that gap."