Review Detail
2.9
36
0.5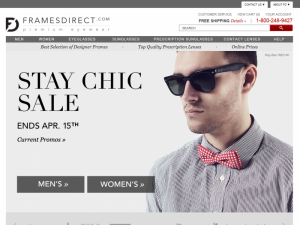 Eye Care

Editor
April 15, 2015
12473
FramesDirect Review
(Updated: December 05, 2015)
The great thing about Frames Direct is that they have both eye glasses and contact lenses. I wear both so this is very convenient when I can order both from the same store, which I generally do at the same time. My glasses are for everyday use. I put in my contacts sometimes when I go out at nights with friends, and when I play sports like hockey.

Selection for contacts isn't super important to me since the only thing I am concerned about is that the store carries my brand which is Acuvue (which Frames Direct does). I am picky about my eye glasses frames and Frames Direct does have a huge selection. When I do change prescription which unfortunately seems to happen every 3 years now, I usually get 3 pairs. 2 regular glasses and one pair of sun glasses. I like to think of myself as fairly style conscious so it is important to me that I have a variety to choose from. The virtual eye wear try on tool is also great since I have my own photo stored with my account that I can use to apply the frames I am interested in.

I also haven't had any problems with my insurance company accepting the forms from Frames Direct. It is one thing I don't want to have a hassle with. I did about 10 years ago with another eye glass store which I never want to go through again.


Pros
Huge Selection, User reviews on individual frames, Sell contact lenses as well
Cons
Lens options can be slightly more expensive than competitors
Bottom Line
Yes, I would recommend this to a friend.
Comments