Review Detail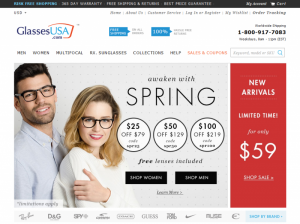 Eye Care

Editor
April 14, 2015
9489
Shipping took a long time with almost no updates through the provided tracking number. Received the glasses, and they were comically bad. It was almost as if the lenses were set crooked in the frames, causing my sight to be very distorted. Actually ended up taking them with me when I went to buy new glasses and the optometrist agreed that the lenses didn't even match the prescription number I provided.

The return policy on the website states that you can return your first order within 14 days, no questions asked for a 100% money back guarantee. Shipped out the glasses about a week after receiving them, using the return shipping label that THEY provided.

A few weeks go by, and I still haven't received any kind of update on the return process. Reached out to them, only to be told they supposedly never received my glasses and can't help me. They are asking for proof that I sent the glasses, but I'm not really sure how to do that since I used the shipping label that they provided to me. It's not like my mailbox prints out a receipt when I put things in it.

Overall, it's trash and I guess a good lesson in trying to cut corners. I'll just stick with going to the optometrist. The only silver lining is that now I know the process on how to dispute things through my bank, I guess?


Cons
Bad customer service, poor lenses, poor return process
Bottom Line
No, I would not recommend this to a friend.
Comments