Review Detail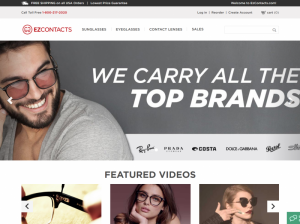 Eye Care

Editor
January 09, 2018
5552
Terrible Customer Service, Awful Shipping Policies
I placed my original order on January, 26 for a 6 months supply of contacts. I ordered regular shipping, which was stated to take between 5-7 business days. On January, 27th I received an email requesting my current prescription. As I had not yet received my updated prescription, I called the 1-800 number on February 4th once I had and spoke with a representative named Olive Joy. I explained my mistake and that I was now running low on contacts. The representative kindly told me that they would expedite shipping, which would take 1-2 business days. I composed an email that contained my current prescription. From that date on, I received several emails from 3 additional representatives (Reno, Ken, and Benz) requesting my prescription. I responded to each email with my current prescription and asked if additional information was needed. I received various responses depending on the representative, ranging from "ok" to "your order cannot be fulfilled at the time." A full week later, I received an email stating that my contacts had been sent for shipping. I called the company to inquire about the delay and had a terrible customer service experience. The representative rudely explained that there was an additional processing time during which the shipment would need to be prepared to be sent to the post office. I found this surprising considering that my order confirmations stated that my contacts would arrive in 5-7 business days, or 1-2 business days with the expedited shipping I was offered. Additional preparation time was not accounted for in the descriptions, receipts, or summaries. During the call I requested to speak to a manager several times before the request was honored. Eventually after discussing it with the manager for some time, he stated that there was nothing that could be done, as the order had left for shipping, despite acknowledging that the processing time had not being disclosed when delivery was estimated. The manager offered a 1 month supply of contacts as recompense. I have not received this order or an email confirmation in regard to it yet. My original order eventually arrived on February 14; 20 days after I put in my original order and 10 days after I provided my prescription and was promised expedited 1-2 day shipping. At this point I had run out of contacts. This was problematic, as I'm prohibited from wearing glasses to work. Overall this was a terrible experience and I do not recommend this company.
Pros
Excellent selection, initially seemed to be good price
Cons
Terrible Customer Service, terrible shipping
Bottom Line
No, I would not recommend this to a friend.
Comments