Review Detail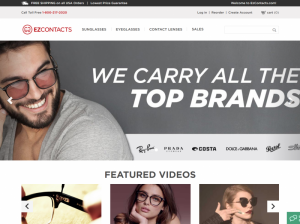 Eye Care

Editor
January 09, 2018
6796
Garbage customer service!
Ordered my contact on March 25th, got a shipping notification on April 4th. The tracking information showed it was sitting in Miami for the next 9 days. I emailed them asking what was up and they could not give me an answer. They then offered to reprocess the order. I waited another few days and did not receive any shipping on the reprocessed order (still haven't). So, I ended up having to order my contacts from another vendor. I then emailed EZContacts and asked them to cancel the reprocessed order and refund my money. They never responded to any emails. I went back into the original order on their website and asked them to refund my money and still have not gotten a response. They took my money and never sent my contacts and are now not even responding to my emails. And, when I try to call I get put on hold for over an hour until I hang up out of frustration. Don't purchase anything from them.


Cons
Slow shipping, contacts did not arrive, no response to requests for refund, calls to customer service yield hold music for over an hour
Bottom Line
No, I would not recommend this to a friend.
Comments