Review Detail
2.9
36
0.5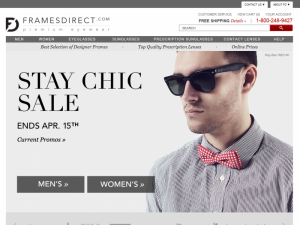 Eye Care

Editor
April 15, 2015
12473
They only replace defective frames with the exact same frames or charge 50% of the cost of lenses.
The frames and lenses were of bad quality. The fake carbon fiber was coming off the arm of the Oakley Pitchman Carbon frame and the progressive part of the lens was at the very bottom edge of both lenses and I had to lean my head as far back as it would go to read with them. When I returned them Frames Direct kept 50% of what I paid for lenses because they would only replace the Oakley frames with the exact same cheap looking frames and I chose not to have them.
Also, They say they will sell you lenses for you old frames IF they sell that particular frame you mail to them. They sell Ray Ban model 8415. When I shipped them my Ray Ban 8415s, part of the $38 I paid for shipping, weeks later I was told they won't replace lenses in my old frames, Ray Ban 8415, because the arms of the frames are blue and not black. They charged me for the return shipping. So, $119.00 they kept for the 50% of the lense cost, $43 total for the shipping. I lost $162.00 and got nothing but a big hassle. Just saying like it was.
Pros
Lense prescription verified.
Cons
Very picky about returns and they want money regardless of the quality of their product.
Bottom Line
No, I would not recommend this to a friend.
Comments