Review Detail
2.9
36
0.5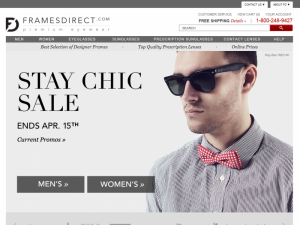 Eye Care

Editor
April 15, 2015
12473
DO NOT BUY! DO NOT TRUST!
If I could, I would give it 0 stars. I ordered frames from Frames Direct.com on Jan 13th, 2020. On their website they said it would take 3-5 business day to receive my frames. Immediately when I ordered the frames, I received an email that the frames were in back order, which was not posted on their website. It said I would receive my frames by Jan 30th. Jan 30th came around and no frames yet. I called customer service and they told me that I would receive it Feb 11th. I was sending emails to a person by the name of Vickie M., E-Commerce Customer Service Optician, and she continued to lie in the emails saying that they received my order on the 30th but it was damages and they had return it to the manufacturer which was in China. I didn't believe her. On February 11th, Angelic, another representative over the phone, told me I would be receiving it expedited in 3 to 5 business day. Then I called on the 12th, and they told me they pushed my order back to February 28th. I've been dealing with this for about a month. I am letting everyone know to not believe the reviews on their website because they are fake. They also misrepresent by stating they do price match, which is a lie, because when you give them the website of same frames that are a cheaper price, they do not want to match it. Also be aware that they do not have the frames in stock, so you might want to call first to find out since their website does not indicate when frames are on back order. They do not provide you with tracking at all.
Cons
THEY DO NOT CARRY INVENTORY. SEEMS EVERYTHING IS BACK ORDERED
Bottom Line
No, I would not recommend this to a friend.
Comments