Review Detail
2.2
31
0.5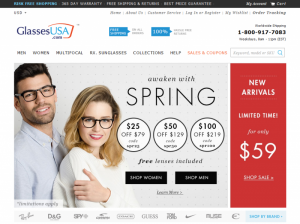 Eye Care

Editor
April 14, 2015
12998
Horrible customer service!
I returned my glasses for an exchange because I could not see distance clearly. I sent several emails and called them multiple times asking one question. "were the glasses made correctly or is the prescription wrong" ? I am absolutely positive they are going to send my original glasses back to me and claim that they remade them. They didn't respond to most of my emails, when they did respond the answer was completely irrelevant to the question I asked. Customer service can not answer questions over the phone. When I call I'm told that a manager is currently unavailable to talk, a manager will return my call the same day. No one has returned my phone calls. The return policy is 100% refund on 1st returns only. If you need to return them a 2nd time you can only get a store credit. My advise to everyone is. Buy your glasses somewhere else. if you buy them from GlassesUSA and need to return them, TAKE THE REFUND! DO NOT EXCHANGE THEM!
I received my replacement glasses after almost one month. I paid extra for the 1.6 Progressive lenses. The replacement glasses are the cheaper Progressive 1.5 lenses. The replacement glasses also do not have the blue light blocking option, I paid extra for that on my original pair. I highly doubt the smudge resist coating is on the new glasses as well. DO NOT BUY YOUR GLASSES FROM GLASSESUSA.COM!
Cons
Horrible customer service
Bottom Line
No, I would not recommend this to a friend.
Comments