Overview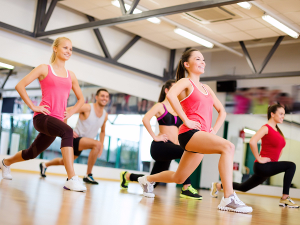 The fitness and exercise industry globally is worth well over $100 billion. Gyms, Health Clubs, and Fitness Centers generate $84 billion alone with the rest being from athletic and exercise equipment.
After World War 2 in the early 1950's the fitness and exercise industry really got it's start. As food became easier to access and office jobs became more prevalent aerobics and fitness started to become more popular as people looked to stay fit and loose weight. More health gyms started to open and people started to look at buying exercise equipment to increase their strength and endurance.
In 2010 it was reported 78 million U.S. adults and about 12.5 million children and adolescents was obese (from a total population of 310 million). This statistic is only increasing as it is estimated by the year 2030 that half of all adults in the United States will be obese (115 million). With the easy access to food and with the increase of sodium and sugars being added to process foods, the fitness and exercise industry is only going to continue to grow as people battle their weight.
For our list of reviews for companies in this industry please see our Fitness category.
History of Facts & Statistics
2017
The membership dropout rate within the first eight weeks of joining a gym is about 80%. [1]
Worldwide there are about 180,000 fitness clubs. This year they will earn around $84 billion from 145 million members. [2]
The Canadian Fitness Club industry annual revenue is about $3 billion which includes 6,325 business who employee 54,731 people. [3]
References
2016
Fitness and Recreational Sports Centers employ 575,260 people in the United States with an average annual wage of $35,180. [1]
The exercise equipment industry in Canada revenue is $843 million a year. [2]
The exercise equipment industry in the United States is worth about $5.19 billion USD. [3]
References
2015
References
Annotations
Pages change over time and while they contained the information presented here at the time of writing, it may have been updated or deleted