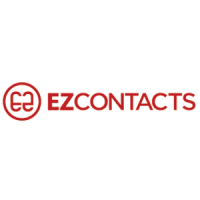 Editor
Updated
User reviews
3 reviews with 4 stars
3 results - showing 1 - 3
Easy Returns - Excellent place to buy glasses from
After receiving my glasses from ezcontacts and wearing them for a couple of hours, I knew they were not what I expected and wanted to return them.

I filled out the contact us form on the ezcontacts website to request a return. The next day I got the form emailed to me.

A customer service rep also called to follow up to see if he could help. I explained the issue and he offered some advice but in the end agreed the return option was the best. I felt that customer communication was excellent.

I filled out the form and returned the glasses. The same day I ordered another pair based on some suggestions from the customer service rep and the new pair was perfect.
Pros
Customer service and the selection of frames
Bottom Line
Yes, I would recommend this to a friend.
Good Deals and decent glasses
I bought my original pair of bi-focal glasses from Lenscrafters. They charged me $175 2 years ago. I accidentally sat on them3 months ago and Lenscrafters told me it would be $100 plus to fix them or replace the frames. The lenses were okay.

Went on ez glasses and ordered the EXACT frame for less than $50. Guess where I plan to buy all my glasses from now on!
Bottom Line
Yes, I would recommend this to a friend.
I originally priced my daughters glasses through our regular optometrist and then I checked out Lens Crafters. She needed 2 pairs which came out to almost $475. This was much more than I wanted to spend especially since I have no insurance coverage.

I then checked out EZContacts.com and found really good prices. We just got the glasses yesterday and they fit perfectly and she can see much better. We ordered the glasses about a week and a half ago. With the order we saved about $280. I am glad we were able to keep the glasses at our $200 budget.


Bottom Line
Yes, I would recommend this to a friend.
3 results - showing 1 - 3