Overview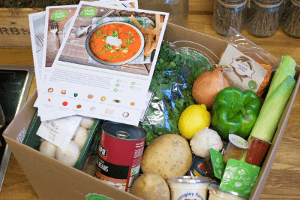 The first Meal Kit delivery service started in 2007 in Europe. The concept quickly exploded and in less than 15 years it is estimated that the industry will be worth between $3 billion and $5 billion. What a Meal Kit service does it provides the subscriber to their front door pre-portioned ingredients for a number of meals every week. The customer can then take the ingredients and the provided recipe and create a home cooked meal. Meals on average take anywhere from 30 minutes to an hour for prep and cooking time. On average dinner meals from these services cost between $8 and $12 per person, per meal. Most meal kit companies require the customer to subscribe to the service. With a subscription every week the company will send the customer a predefined number of meals for a predefined number of people. The meals sent are based on preferences that the customer selects at the beginning and can include things like if the customer is a vegetarian, or enjoys seafood.
One of the main selling features of meal kit services are the recipes the companies offer. It allows the customer to try out 1 or more new dishes every week that they may have never considered making at home before. The meals usually are healthy and calorie conscious while still being flavorful.
Most popular meal kit services offer recipes for dinners only. This is starting to change as companies start offering breakfasts, lunches, deserts and other items to the menu for an extra cost. Niche markets are also emerging in the meal kit delivery service for food meals like smoothies.
For our list of reviews for companies in this industry please see our Meal Kit category.
History of Facts & Statistics
2019
References
2018
References
2017
References
2016
References
2015
References
2007
Middagsfrid the first meal kit company was launched in Sweden by Kicki Theander. [1]
References
Annotations
Pages change over time and while they contained the information presented here at the time of writing, it may have been updated or deleted